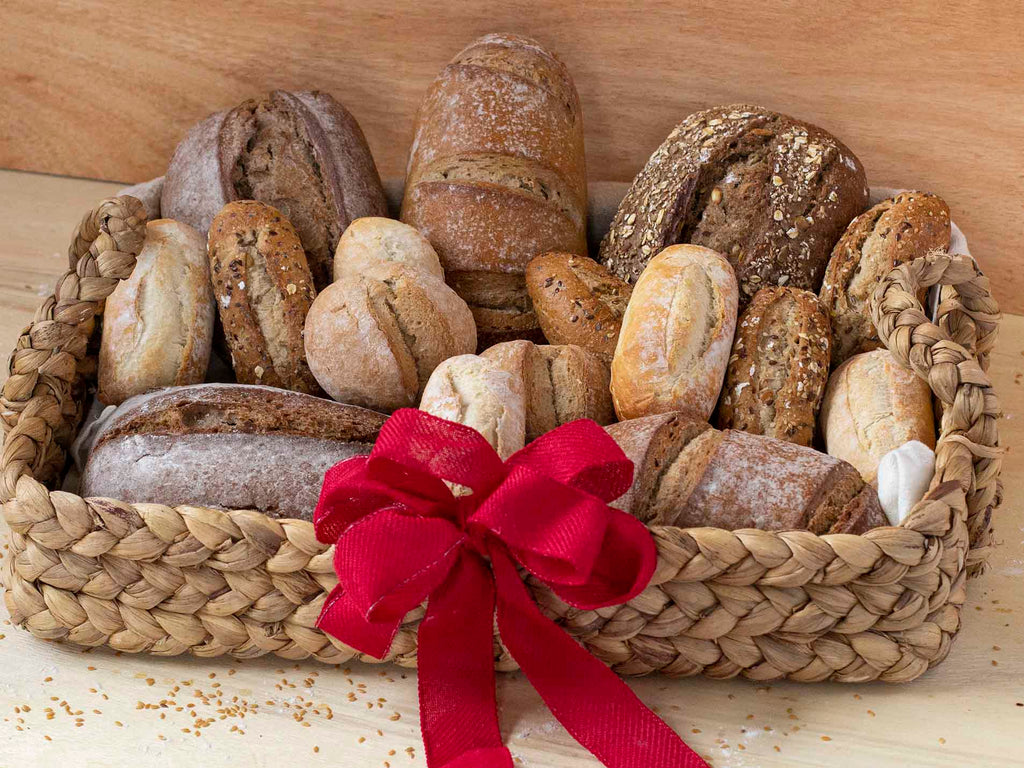 Gift Box - Sampler
Bread is one of the oldest, most venerable gifts of mankind. Literally biblical. Break bread with friends & family. 

The Gift Box contains 10 items at $7.99 each, with free shipping, removed prices and a gift message.
Contents:
2 Multi Seed Bread
2 Country Bread
2 Farmer's Bread
2 Kaiser Roll 5-Pack
2 Multi-Seed Roll 5-Pack
Handling: Enter yourself as billing address and recipient as shipping address. The box contains a packing slip without prices, with the message "Dear [Recipient], enjoy your special bread gift from [Buyer]!"  

Note: The photo is illustrative and has no resemblance to the gift box or its contents. The basket and ribbon are NOT part of the package. Composition can change without notice, in line with our inventory.
German Bread
Love every item I ordered.
Will return soon for more!
Maria Drummond
Very tasty!!
Being from Germany I miss my German bread. This is the next best thing. Deverlivey was timely and easy to prepare. The Kaiser Rolls are so far my favorite but I have not sampled my way entirely through the box either.
I wish the package would resemble more of a gift though (may just some ribbon print on the box...) to make it more suitable to ship to clients and friends for special occasions.
Just like home
Great tasting bread and rolls. Thank you so much. Everything was packed and delivered perfect and on time. We will certainly order again.
Delicious!
Great value and tastes like Germany! Closest thing we've found to a German bakery in the US!
First Purchase and love the bread and rolls
My family visits Germany every couple years and this is almost the same as going to a corner baker in my families german town. We purchased the sampler pack and ordered extra rolls and love everything. I was hesitate to purchase at first but this company's bread matches the positive reviews. Give it a try and you won't be disappointed!!! - Tyler